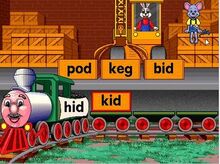 Ernest the Train is an old talkative train, who only appears in Reader Rabbit's Reading 1.
He only appears in the Word Train Game.
He pulls 3 flatcars that carry words that rhyme & sound the same and have two of same the letters to Wordville.
He has a black mustache under his pink nose and black eyebrows.